Richard has the ability to catch fish when the others can't!
Go fishing and catch trout with Taupo's most experienced charter operator, Richard Staines.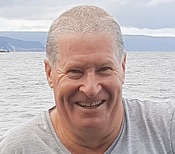 Richard has over 30 years operating charter boats on Lake Taupo and has been fishing Lake Taupo all his life. Richard is born and bred in Taupo — try to find anyone with that much experience.
Richard is a true professional and can show you eveything that fishing on Lake Taupo has to offer. He will go that extra mile to make sure you have a great time.
Licenced for up to 8 people.
No experience necessary.
White Striker IV is designed so you can fish in all weather conditions in total comfort.
White Striker IV has a fully equipped galley and we can even cook your trout aboard.
You are welcome to bring your own food and refreshments.
Tea & coffee is provided free of charge.
On-board toilet.
Top quality fishing tackle supplied at no extra charge.
Fishing licences can be arranged.
Your catch is cleaned and bagged for you and we can arrange to have your trout smoked.